Home Vastu
Ancient Indian Science
Home Vastu -Vastu for home is the most important place for a living being on this earth. Every body needs a home and that´s why. We can say that environment of the internal and external vastu of a house have all way impact on the person living in that place.
All the four directions North, East, South and West signifies the effect of their
planets on the people. Peace, progress and prosperity of a person of family
depends on the fact how all the five elements of vastu and all directions of the
universe are captured while building a home.
Home Vastu principles are applied on home drawing, main
entrance, windows, water source, electricity source, stairs,
bedrooms, drawing room, kitchen, doors so every part of the
house should be well placed according to vastu.
Slopes of floor and elevation of house can impact the fate of people. First of all choose the place for constructing a house is the most important as where it is situated on rood, where it has road thurst, what is its neighburhood any pole, heavy tree or tower.
Every thing has impact on living being of that place, So that the family can live happily with progress and harmony.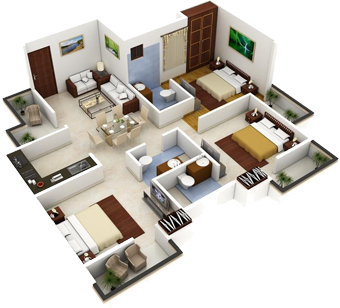 Vastu Shastra
Office Vastu
Office is place which is bound with
workmanship¸ luck and fate of a
group of people living or working
together in that limited space.